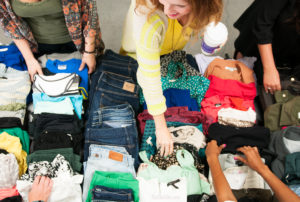 Clear out the kids' outgrown clothes and upgrade to what fits- without spending a dime!  Join us at the FCMA Clothing Swap!  The swap is a totally FREE event where no money changes hands. Bring clothes (adult sizes too!) your family is no longer in need of, and possibly find some great new-to-you items! Open to Four Corners families only.
DATE & TIME for the 2017/2018 school year is TBD
TIME: Four Corners Gymnasium
COST: FREE!
ITEMS TO BRING: Clothing for all sizes and season; kids, adult, maternity, men, women, jackets.
HOW IT WORKS: 
Those who wish to participate in the clothing swap should bring their clothes directly to the swap.  Feel free to bring a wagon or cart to help get your items into the school.
Those who do not wish to participate but still want to donate clothing  for the swap may bring their items to school on Wed., May 31st. There will be a parent on both sides of the building collecting bagged items.
The swap will be held in the school gym/cafeteria with the cafeteria tables set up with category/size signs.  Upon arrival swappers will sort their own donations onto the appropriate tables/piles. Then browse for whatever they'd like to take home. Each swapper may bring home roughly the same number of bags they bring in.
Non-clothing items like linens and any clothing items that are not swap-worthy (heavily soiled, ripped, etc.) should be taken directly to the Easter Seals Truck at the back of the Gardenia entrance parking lot on Thursday, June 1st at either drop off or dismissal.
Items that are left over at the end of the swap will be bagged up and donated to Easter Seals as a part of our Fill-a-Truck Fundraiser.
To volunteer & help plan this event for the 2017/2018 school year, please email Anjela Freeman at afreemanjd@gmail.com