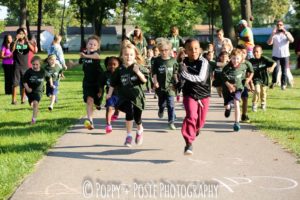 2018 Update: Thank you to all our volunteers for another successful Fun Run, we could not have had more perfect weather. Thank you to families who came out to support and the donations that keep coming in!
Due to the many requests for purchasing a Fun Run t-shirt, the Parent Guild is happy to offer these 50/50 cotton/polyester blend tees for $10! There is the crew neck option and a Women's v-neck option. Both are daisy yellow with green print, printed on the front with the Fun Run design and with sponsor logos on the back.
Please complete the order form and submit cash, or check to FCMA Parent
Guild in the office by October 15, 2018. If you prefer, you may PayPal to fcmaparentguild@gmail.com. Please use the 'sending to a friend' option
and place all the order details in the comment section.
Special shout-out to our sponsors: Be Well Holistic, Central Church, Champion Tree Care, Choice Schools Associates, Holistic Sleep Center, Honey. Space for Moms, Jenny's Salon, Law Offices of James O. Elliott, Michigan Business Consultants, Montessori Rocks, Raw Therapy LLC, United Restoration Disaster Services.
A big thank you to
Plum Market
for donating the fresh fruit!
We have also received multiple requests for more t-shirts! An order form will be available on the Parent Guild website by the end of the week.
+++++++++++++++++++++++++++++++++++++++++++++++++++++++++++++++++++++++++++++++++++++++
The FCMA Annual Fun Run is our biggest fundraising event held in September.  We raise money to hold community events throughout the school year, and also to give back to the school gifts that support the learning environment. Parent Guild has purchased SnugPlay equipment which supports Montessori imaginative play, classroom research books, drinking fountains /water bottle refilling stations.
Each classroom will have a designated time to walk, jog, or run laps at Rosie's Park.
We need your help on the day of to make it a success!
2018 Fun Run
Date: Friday, September 28
Location: Rosie's Park
DONATIONS
Fun Run donations can be made by cash, check made payable to FCMA Parent Guild, or through Paypal. To make a Fun Run contribution via Paypal, please send your payment (use the friends and family option) to fcmapglead@gmail.com. In the "notes" section, comment with your child's full name, grade, and class. Click here for a copy of the Pledge form.                                                             
VOLUNTEERS & DONATIONS NEEDED!
FAMILY PARTICIPATION
Parents are welcome to come cheer on their children. To make sure you don't miss your child's class, it is recommended you arrive 10-15 minutes before their scheduled time.
2018 Fun Run Schedule:
8:30   Bonsai
8:40   Acacia
8:50   Bamboo
9:00   Beech
9:10   Cedar
9:20   Oak
9:30   Redbud
9:40   Catalpa
9:50   Chestnut
10:00  Magnolia
10:10  Palm
10:20  Sassafras
10:30  Cypress
10:40  Elm
10:50  Gingko
11:00   Pine
11:10   Willow
11:20   Birch, Maple
BUSINESS SPONSORS FOR 2018 FUN RUN:
Click here for sponsorship form