The FCMA Parent Guild is a parent-led, non-profit volunteer organization that supports our school and teaching staff in a variety of ways; classroom support, teacher communication and appreciation, fundraising, community building, and school-wide special events. (It's basically, our school's version of a PTA.)
There are many ways parents can get involved. Everyone is welcome.  No need to RSVP to our meetings, and younger siblings are always welcome. We typically alternate between meeting on a weekday morning one month, and a weekday evening the next, so everyone has a chance to be involved.
October 4, 2018 Update: Please send in your Box Tops! The November deadline is approaching. Please place your box tops in the basket inside the Herbert street entrance.
For a list of our upcoming meetings, click here.
For our most recent newsletter updates, click here.
Easy Ways to Help FCMA for the 2018-19 School Year, click here.
2018 Harvest Festival is coming soon, see more details here!
Sign up for the Bake Sale here!
Sign up to volunteer here!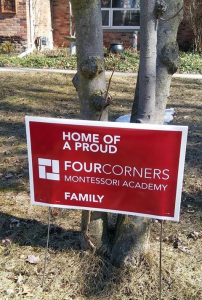 FCMA Lawn Sign Fundraiser
Show your school spirit by ordering a yard sign and placing it on your lawn. Send your $10 payment via Paypal (use friends & family option) to: fcmaparentguild@gmail.com. Include your child's name and classroom. An FCMA Parent Guild volunteer will then contact you to make arrangements for sign pick up.